Rent a Meeting Space
Among its resources, the Schoenbaum Center offers affordable, versatile meeting space open to businesses and the community for reservation. Our two conference rooms, the Charleston Room and the Kanawha Valley Room, offer options for small gatherings and large events. The Charleston Room is the smaller of the spaces, with room for 15-20 people, while the Kanawha Valley Room can accommodate as many as 60 attendees.
The spaces are perfect for:
Board Meetings
Staff Meetings
Association Meetings
Workshops and Trainings
Strategic Planning
Focus Groups
Community Meetings
Media Events
Awards/Service Events
Social After Hours Events
How to Reserve a Room
Please reference our Meeting Room Calendar to check date and time availability.
Regular rental times are 8:45 a.m. to 5 p.m. Monday-Friday, with the conference room closed on some days, as noted on the calendar. Please call or email us to determine if meeting space is available at other times; minimum rental hours apply for events outside regular rental times.
Once you have verified the date, time, and room are available, please complete the Meeting Room Request Form below, which includes rental rates and information. You will calculate your usage rates according to what items you require, then email the completed form to frontdesk@schoenbaumcenter.org.
You will receive an email and invoice from us. Payment is easy to complete: we accept credit card or check to complete your reservation. You can process credit card payments online, or make card or check payments at our front desk at 304.414.4400. Your payment completes your reservation.
We will keep your reservation for up to five days following the confirmation date before payment is processed. If payment is not received, you will receive a cancellation notice, and we will reinstate the reservation once payment is completed.
If you need to cancel a reservation, please email the date, time, and cancellation request to frontdesk@schoenbaumcenter.org. Please note: only cancellations received seven or more days in advance are guaranteed full refund of payment.
Additional Information
Amenities Available
Wi-Fi access
Projection for presentations
Videoconferencing and teleconferencing
Tables and comfortable chairs
Comfortable waiting area
Convenient restrooms
Reception welcome area
Refreshments
Meeting Space Use
If you need assistance, please inquire at our front desk about help with meeting room equipment or technology. Furniture can be moved to suit your meeting room purposes, and please allow time to return it to its original placement. Please do not remove any equipment from the meeting rooms without express permission from Schoenbaum Center administration.
Catering
You are welcome to serve food and beverages during a meeting. Leftover items can be refrigerated near the conference room until the close of meetings. Please inform our front desk staff prior to your meeting if you need this service.
Computers, Printing, and Copying
Access to computers, internet, printing, and copying is available in the James H. Dissen Library, conveniently located next to our front desk and meeting rooms. We gladly provide 10 pages of free printing; each additional page will be $0.10.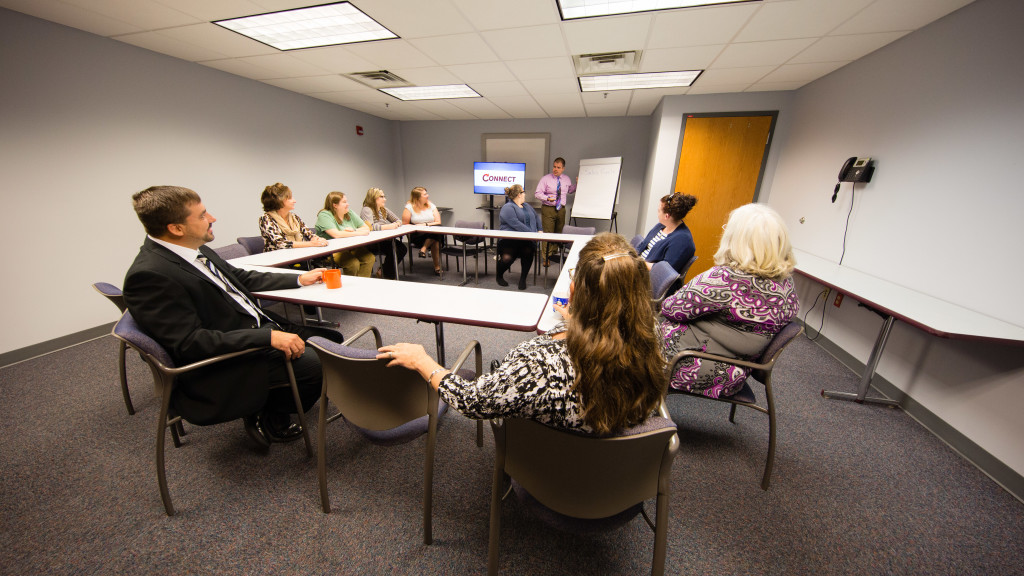 "Everyone is so helpful and they bend over backwards to accommodate us. The rooms are spacious. It's a great atmosphere to hold meetings." ~ Cheryl Buntin, SVP with AaSys Group, INC.